Dr. Shahram Eivazi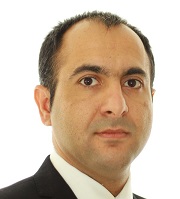 University of Tübingen
Dpt. of Computer Science
Human-Computer Interaction
Sand 14
72076 Tübingen
Germany
Telephone

+49 - (0) 70 71 - 29 - 70494

Telefax

+49 - (0) 70 71 - 29 - 50 62

E-Mail

Office

Sand 14, C220

Office hours

on appointment
Research Interests
Eye tracking
Machine vision
Machine learning
HCI and Human factors
Medical technology
Micro-neurosurgery
Robotic
Current Projects
EyeMic, a binocular eye tracker that can be attached on top of any microscope ocular. (Video link)
This is the first step towards unrestricted eye tracking in microscopy procedures for development of future gaze-contingent microscope control systems.

Video

A Head and Eye Tracking method for Hands-free Control of a Robotic system. (video link)
We are developing a head and gaze-contingent robotic exoscope for camera viewpoint automation.
Video

Gaze-Telesurgery for the SECTIO CHIRURGICA platform. Here we are developing a live gaze tracking system to be used for online training of surgeons.

Publications
RemoteEye: An open-source high-speed remote eye tracker
mar, 2020
by Benedikt Hosp, Shahram Eivazi, Maximilian Maurer, Woflgang Fuhl, David Geisler, and Enkelejda Kasneci
Improving Real-Time CNN-Based Pupil Detection Through Domain-Specific Data Augmentation
jun, 2019
by S. Eivazi, T. Santini, A. Keshavarzi, T. C. Kübler, and A. Mazzei
An Inconspicuous and Modular Head-Mounted Eye Tracker
jun, 2018
by S. Eivazi, T. Kübler, T. Santini, and E. Kasneci
BORE: Boosted-oriented edge optimization for robust, real time remote pupil center detection
2018
by W. Fuhl, S. Eivazi, B. Hosp, A. Eivazi, W. Rosenstiel, and E. Kasneci
Using Eye Tracking to Evaluate and Develop Innovative Teaching Strategies for Fostering Image Reading Skills of Novices in Medical Training
sep, 2017
by N. Castner, S. Eivazi, K. Scheiter, and E. Kasneci
Towards Intelligent Surgical Microscopes: Surgeons Gaze and Instrument Tracking
mar, 2017
by Shahram Eivazi, Wolfgang Fuhl, and Enkelejda Kasneci
Towards automatic skill evaluation in microsurgery
mar, 2017
by Shahram Eivazi, Michael Slupina, Wolfgang Fuhl, Hoorieh Afkari, Ahmad Hafez, and Enkelejda Kasneci
Optimal eye movement strategies: a comparison of neurosurgeons gaze patterns when using a surgical microscope
2017
by S. Eivazi, A. Hafez, W. Fuhl, H. Afkari, E. Kasneci, M. Lehecka, and R. Bednarik
Automated Visual Scanpath Analysis Reveals the Expertise Level of Micro-neurosurgeons
oct, 2015
by T. C. Kübler, S. Eivazi, and E. Kasneci
Research
Intelligent Surgical Microscope
Head-mounted eye tracking offers remarkable opportunities for research and applications regarding pervasive health monitoring, mental state inference, and human computer interaction in dynamic scenarios. Although a plethora of software for the acquisition of eye-tracking data exists, they often exhibit critical issues when pervasive eye tracking is considered, e.g., closed source, costly eye tracker hardware dependencies, and requiring a human supervisor for calibration. In this paper, we introduce EyeRecToo, an open-source software for real-time pervasive head-mounted eye-tracking. Out of the box, EyeRecToo offers multiple real-time state-of-the-art pupil detection and gaze estimation methods, which can be easily replaced by user implemented algorithms if desired. A novel calibration method that allows users to calibrate the system without the assistance of a human supervisor is also integrated. Moreover, this software supports multiple head-mounted eye-tracking hardware, records eye and scene videos, and stores pupil and gaze information, which are also available as a real-time stream. Thus, EyeRecToo serves as a framework to quickly enable pervasive eye-tracking research and applications.
News