Eye Movements Identification
Eye movement detection and simulation
Description Simulator
Description Histogram of oriented velocities
Description Rule lerner
Sourcecode and lib downloads
Simulator Matlab files
Histogram of oriented velocities C++ lib
Histogram of oriented velocities Matlab files
Rule lerner C++ lib
Password: eyedata
User: emmapupildata
All algorithms
The simulator and all detection algorithms are also integrated into EyeTrace
Example
Automatic Identification of Eye Movements
I-BDT
The Bayesian Decision Theory Identification (I-BDT) algorithm was designed to identify fixations, saccades, and smooth pursuits in real-time for low-resolution eye trackers. Additionally, the algorithm operates directly on the eye-position signal and, thus, requires no calibration.
Downloads
Bayesian Online Clustering of Eye Movements
The task of automatically tracking the visual attention in dynamic visual scenes is highly challenging. To approach it, we propose a Bayesian online learning algorithm. As the visual scene changes and new objects appear, based on a mixture model, the algorithm can identify and tell saccades from visual fixations.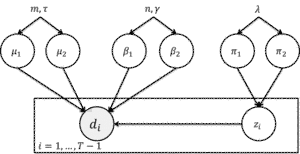 The source code for use with Visual Studio is included in the ScanpathViewer Software. Scanpath Viewer is a visualization tool for eye-tracking recordings. It can produce customizable, animated heatmaps and scanpath graphs.
[Download]
Publications
Bayesian Identification of Fixations, Saccades, and Smooth Pursuits
by T. Santini, W. Fuhl, T. C. Kübler, and E. Kasneci
In Proceedings of the Ninth Biennial ACM Symposium on Eye Tracking Research & Applications (ETRA), pages 163–170, 2016.
Learn More
Bayesian Online Clustering of Eye-Tracking Data
by E. Tafaj, G. Kasneci, W. Rosenstiel, and M. Bogdan
In Eye Tracking Research and Applications (ETRA 2012), 2012.
Learn More